Harvest Home is a monthly series of concerts performed by musicians who have immersed themselves in traditional music and achieved acclaim and recognition as 'Tradition Bearers' in their respective fields.

Please order tickets to these Concerts

here

. Seating is limited and you must have a ticket to attend. Thank you!



June 6th Concert - George Balderose and Richard Hughes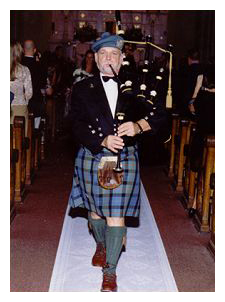 George Balderose over the last 30 years has studied with many of the world's great Scottish piping masters. He is the founder of the Balmoral School of Piping, the foremost summer school in the USA for the learning of the bagpipes. In 1981 he received the degree of "Senior Piper" from the College of Piping, Glasgow, Scotland. As a competitor George has won the Grade I trophy at the Ligonier Highland Games four times, three consecutively. During the 1990's he performed as a soloist at the Metropolitan Museum of Art in New York City, Carnegie Music Hall in Pittsburgh, and three times as a guest artist in concert with the Pittsburgh Symphony at Heinz Hall.
A New York Times reviewer described George as having a "virtuoso's gift" and in the words of another he is a "virtuosic piper". Since 1975 he has performed at numerous concerts, festivals, and many other occasions. His piping has been recorded on: Dewar's Bagpipe Festival at the Knitting Factory; w/ Road to the Isles: The Way Home, & Garden of Daisies; w/organist Ed Norman: Confluence: Music with the Highland Bagpipe and Organ; w/ L.E. McCullough, Ernie Hawkins: A Celtic Christmas. In 2013 George authored The Balmoral Collection of Hymns Arranged for the Highland Bagpipe, and a CD of organ and bagpipe music entitled Confluence, both published by the Balmoral School of Highland Piping, Inc.
Each November George and the Balmoral School produce the Balmoral Classic, featuring the US Junior Solo Bagpiping and Snare Drumming Championships in Pittsburgh, Pennsylvania.
Richard Hughes began performing traditional Irish folk music on the wooden flute and tin whistle over 50 years ago, playing for Irish dances as a teenager in Pittsburgh, PA. His song repertoire includes old and new songs from Celtic traditions around the world: ballads, sea shanties, humorous songs, love songs, songs of sheep shearing, railroads and more. His singing is a celebration of traditional working life and recreates a living history of human spirit in the process. Richard also plays a Concert D wooden flute made by Patrick Olwell (recognized by professional Irish style flute players as one of the world's most reknowned makers of Irish flutes), and guitar (a Martin SOM45)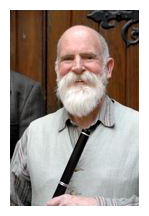 Over the years Richard has performed with Samuel Hazo and Ann Burnham for the International Poetry Forum, the Pennsylvania Council on the Arts, The Pittsburgh Wind Symphony (with, and by invitation of, David Amram), and numerous national and regional festivals and venues. Richard can also be heard on the Rounder records re-issue of Light Through the Leaves, the first (1983) anthology of traditional Irish music in America on wind instruments (Rounder 6014), and The Way Home (Music Tree 1011) and Garden of Daisies (Music Tree 1012) with Road to the Isles.
---
Friday, July 25th Concert - Ernie Hawkins, the Great Blues and Ragtime Guitar Player - 8 pm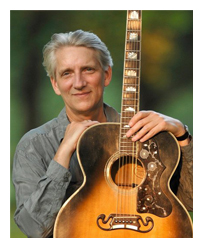 For many years Ernie Hawkins has been playing concerts, clubs, blues and folk festivals, workshops, colleges, museums, parties, fist fights and millennium celebrations in the United States, Canada, Japan and Europe and at every stop in the road from A Prairie Home Companion to Antone's to the Madrid Jazz Festival. He has played with blues greats such as Son House, Mance Lipscomb, Fred McDowell, Jim Brewer, Rev. Gary Davis and many others.
Ernest Leroy Hawkins was born in Pittsburgh PA in 1947. In the '50's he had a paper route, a beagle and a Roy Rodgers harmonica (which he still has somewhere).
He first learned country guitar, mandolin, banjo and bones from a guy named Pete who worked on his Uncle's farm. Pete had come up playing with the Lilly Brothers and had rambled around the country - taking a 30-year detour down whisky lane that landed him in a cabin on the farm as property caretaker...and becoming a primary musical mentor to Ernie.

Ernie was already playing blues as a teenager when he heard a fellow passing through town play Gary Davis' "Let Us Get Together". He was hooked then and forever on country blues and ragtime guitar...and players like Davis, Blind Willie McTell, Blind Blake, Willie Johnson, Skip James, John Hurt, Leadbelly...

Right after high school, Ernie moved to New York City with only one purpose - to track down and study with Rev. Gary Davis. In '69 he moved back home, enrolled in the University of Pittsburgh and earned a degree in philosophy. During this time, Ernie played with Niles Jones, a blues player living in the city and "rediscovered" in the '90's as Guitar Gabriel.

In 1973 Ernie moved to Dallas for graduate school and earned a Ph.D. in phenomenological psychology. Again he managed to find the blues scene and hooked up with players all over the southwest - learning some Lemon Jefferson, Funny Papa Smith, Henry Thomas and Lightnin' Hopkins. So, with Ph.D. in hand, Ernie wandered back into music.

In the early '80's he recorded his first solo album of ragtime guitar," Ragtime Signatures". His second CD "Blues Advice" was dedicated to the memory of his teacher, Reverend Gary Davis on the occasion of the centennial of his birth. The CD includes three songs taught to Ernie by Davis: "Penitentiary Blues", "Florida Blues" and "Will There Be Stars in My Crown" that have never been previously recorded. Ernie's third CD "Bluesified" regularly plays in the preemie and chemo units of a Pittsburgh hospital where it is considered an integral part of the healing process. "Mean Little Poodle" was Editor's Choice in Acoustic Guitar magazine. Ernie's latest CD "Rags & Bones" has been declared by many to be his best.
For ten years he played electric guitar with the Blue Bombers, one of Pittsburgh's favorite R&B bands. Instructional videos on Lightnin' Hopkins, Blind Willie McTell, Mance Lipscomb, Rev. Gary Davis and guitar theory are available for purchase from this website. Ernie has taught at most of the major guitar camps in the world.
Ernie has been featured in SingOUT!, Fingerstyle Guitar, Dirty Linen, Acoustic Guitar, Blues Revue and Vintage Guitar magazines. He has appeared on "A Prairie Home Companion", "Mountain Stage" , "Woodsongs Old-Time Radio Hour" and XM radio. Ernie appears on Maria Muldaur's Grammy and Handy nominated and Indie Award winning album "Richland Woman Blues" and was the guitarist for the national support tour.

"Ernie Hawkins is an important link in the unbroken chain of blues and gospel artists. His guitaristry and love of the style is incomparable. From the Rev. Gary Davis into the future with his own style Ernie is one of the special ones!" Jorma Kaukonen

Seating is Limited. Please Get Your Tickets at

Our Eventbrite Events Page

.



(If we sell out online, we will not be able to sell tickets at the door)

---
August 29th Concert - Born Old - 8 pm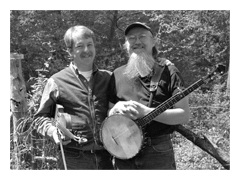 Born Old is Doug Van Gundy and Paul Gartner. Doug plays fiddle, guitar, harmonica, mandolin and vocals, and Paul anchors the music on banjo, fiddle, guitar and vocals. Both are blue-ribbon winners on their respective instruments. Paul is a two-time Ohio State clawhammer banjo champion, and took first in 2003 at the WV State Folk festival at Glenville. Doug took first place in banjo at the 2008 Randolph County fair, and is a two-time Ohio State fiddle champion. For 12 years they provided the music for the dance competition at the Appalachian String Band Festival, better known as Clifftop.

A typical set includes West Virginia fiddle tunes, and gems from the Golden Age of country music, from legends such as the Carter family and Uncle Dave Macon.

Born Old has appeared on "Mountain Stage," and at Marshall University, FestivALL, Shepherd University, Fort New Salem, West Virginia University, the Vandalia Gathering, Ohio University, Pittsburgh's Emerging Legend Series, the Edinboro (Pa.) Arts and Music Festival, New York City, Grand Ledge, Mich., Charlotte, N.C. and at square dances in West Virginia from Morgantown to Charleston and Dunmore to Huntington.

Born Old has also produced two recordings, "Born Old" and "Vintage Keys."

_____________________________________________________________________________________________________

October 18th Concert - Scottish Fiddling Champion Melinda Crawford - 8 PM

A "Harvest Home Concert" ~ Music of Traditional Cultures

Harvest Home is a monthly series of concerts performed by musicians who have immersed themselves in traditional music and achieved acclaim and recognition as 'Tradition Bearers' in their respective fields. This series of Traditional Music is sponsored by George Balderose of the Balmoral School of Piping and Drumming and, with much appreciation, is hosted by The Four Directions - A Center for the Arts and Healing. Please also see our other concerts in the Harvest Home Series!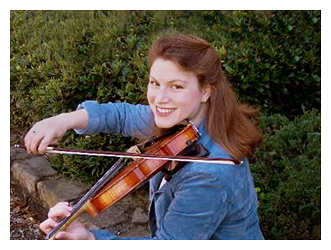 Melinda Crawford, a U.S. National Scottish Fiddling Champion, is a frequent and popular performer throughout the United States and beyond. Always drawing a crowd, she has been heard at everything from highland games and Celtic festivals to a Hard Rock Café and Esterházy Palace in Austria. She has also had the honor of performing for the 37th Lord Lyon King of Arms of Scotland, David Sellar.

Melinda has won numerous awards for her solo playing and her original compositions at regional and national Scottish F.I.R.E. competitions. She achieved fiddling titles such as the Allegheny Mountain Fiddling Champion and the Potomac Valley Fiddling Champion several times prior to winning the 2003 U.S. National Scottish Fiddling Championship and becoming a sanctioned Scottish F.I.R.E. competition judge. She was a finalist for the 2008 Niel Gow International Scottish Fiddle Composition Competition held in Pitlochry, Scotland.

A well respected teacher, Melinda has been repeatedly invited to present educational sessions at national conferences to school string teachers about how to teach traditional Scottish fiddling in the classroom. She is an instructor at the Jink & Diddle School of Scottish Fiddling in North Carolina. Melinda conducts workshops on Scottish fiddling all over the US and teaches Scottish fiddling privately and internationally to many students over the internet. She frequently judges Scottish F.I.R.E. competitions at highland games and has judged previous F.I.R.E. national championships.

Melinda is currently residing in western Pennsylvania where she is an assistant professor of music at Westminster College. At Westminster, she is the string education specialist and directs both the symphonic orchestra and Ceòl na Teud, Westminster's Scottish string music group. Though she most frequently performs with pianist Dan Perttu, she also performs with Pittsburgh-based, Scottish/Irish group, Road to The Isles.

To hear parts of her tunes from her CD "The Sheiling Braes", go to Melinda's Store here:
http://www.melindacrawford.com/store.html

"The Sheiling Braes is a recording through which her enthusiasm for the genre fairly flies off the disc. The racks display high energy and she has the fiddle 'speakin' the Gaelic' very well indeed. You'll want to listen to this one many times."

_ Dr. John Turner, Ten-time National Scottish Fiddling Champion; Founder/Director, The Jink and Diddle School of Scottish Fiddling

Seating is limited (tickets are available online only) in our wonderfully intimate and beautifully acoustic "Great Room", so please order your tickets early here: http://bit.ly/melinda-crawford-concert. BYOB and potluck munchies. We look forward to seeing you here!